I hate buying gift wrap that ultimately just winds up in the trash. It's a waste of money and terrible for the environment. So I'm always on the hunt for creative ways to package gifts in reusable bags and containers. These bags are gifts that keep on giving and can be reused for carrying groceries, gym essentials, snacks and lunches, or for re-gifting.
Personalized bags for weddings, birthday party favors and all your gifting occasions or as their tagline says "for all of life's rad events" – really well priced for a solid quality bag and their designs are modern and sweet, bags are also locally sourced from San Diego, CA. ($12)
Who knew it's so easy to personalize your own canvas bag?! We can't wait to try this one. You just need iron-on transfer paper, a blank canvas tote and a cool design. Head over to Oh Happy Day for a detailed how-to and a FREE "Rad Mom" Printable to get your started.
These fabulous reusable bags from Lauren Conrad's boutique, "The Little Market," are handmade, come in multiple sizes (including wine bag), and the interior is water-resistant. As an added bonus, your purchase supports Corr-The Jute Works, a nonprofit organization that empowers destitute, rural women in Bangladesh through handicraft production.
These sturdy shopping bags are practical and whimsical, we love their cheerful designs, cuter than wrapping paper! Available in various sizes for your gifting needs, including zipped pouches for smaller items and fun socks too. Made from 95-percent recycled material; waterproof and easy to clean. Bags start at $9.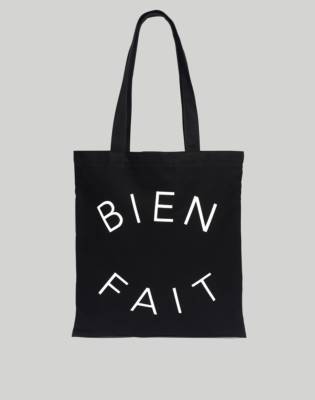 I can't believe these totes are only $5! This was my go-to gift last Christmas for all the Francophiles in my life. To add a touch of nostalgia, I filled the bags with our favorite French goodies. The totes are lightweight, sturdy, and the perfect size for carrying on-the-go essentials.
This reusable gift bag is a gift in itself and also comes in a larger version and as wine bags too. These bags are made to last; the material is lightweight, durable, and easy to clean, and they come in a variety of fun prints. ($7.50-$13.50)
These bags last forever. I'm still using the one my husband gave me our first Christmas together, filled with so many thoughtful goodies! Take it from a helpful Amazon review: "Fantastic little bag to carry in your purse or backpack for when you have overflow items to carry. Used it daily on my last trip. Have one myself and just got one to give as a gift. I hope the recipient loves theirs as much as I do." ($10)
Dream State specializes in handwritten and hand-drawn wedding and party gift bags. One reviewer wrote: "A gift bag that makes you curious as to what is inside!?! It's a must!" It's also reusable. This gift won't stop giving and makes each person excited to do so. ($10)