I recently came across this post on Real Simple about transforming LEGO bricks into clever household hacks and thought these wonderful ideas had the makings of the perfect gift that kids can make and give.
Why We Love It
We love ideas that inspire people to create gifts using materials they already have to create something from the heart. This will teach kids that meaningful gifts don't need to cost anything and parents will reinforce this idea by using these thoughtful wares hopefully everyday.
LEGO Tissue Box Cover
From
OneArtsyMama
: "Building the cover is simple; you start by creating an open square that's 20 studs long on each side and two studs thick. Then, you just continue building up until your bricks reach the top of the tissue box. Create a top layer that's four studs wide. This helps cover the box top without making it hard to get the tissues out."
LEGO DESK ORGANIZER WITH WORKING DRAWERS
One of our favorite LEGO gifts by Frugalfun4boys: "The basic concept of this design is so simple, and you could make all kinds of variations to organize different things – coins, marble collections, minifigure parts, school supplies, rubber bands, paper clips, magnets. Endless possibilities! Get instructions here.

LEGO Fidget Spinner
Frugalfun4boys: "Aidan (age 13) has been working for a couple of weeks to design a LEGO fidget spinner. The real ones spin for a longer time, but his version has a satisfying spin and is a fun LEGO build! Challenge kids to build one with our design or to create their own." Get instructions here.
LEGO Photo Frame Pen Holder
From LalyMom: "We made two super simple Photo Frame Pen Holders. This red one would be great for Mother's Day or Valentine's Day. The blue one below is pretty similar but we made it mostly from this basic LEGO set. We borrowed a few pieces from the other set but if you're the "LEGO, LEGO, Everywhere" kinda family, you should be just fine!"

DIY LEGO Keyholder
MINIECO: "I'm always losing my keys so I was super-thrilled to find this idea at technabob over the weekend. I couldn't bring myself to drill through a lego piece (!) but after raiding my sons lego box I found the perfect bit to attach the key to (lego part number 3176)."
DIY Lego Vase
From FabArtDIY: "Here is a cute idea to transform your child's LEGOs into a colorful piece of home decoration, change the shape and color with your creativity power. This rainbow lego vase we featured here can be a vase, a simple table decoration, or an desk organizer. What will be your lego work?"
LEGO Picture Frames
From LalyMom: "I've got a great tutorial for how to make a DIY LEGO Picture Frames. One would be a great Mother's Day Gift but you could change the words to make it say whatever you want! The other is pretty basic and you could make it for any time!"
Watch Coffee On The Brain's video tutorial: Learn How to Make a LEGO Picture Frame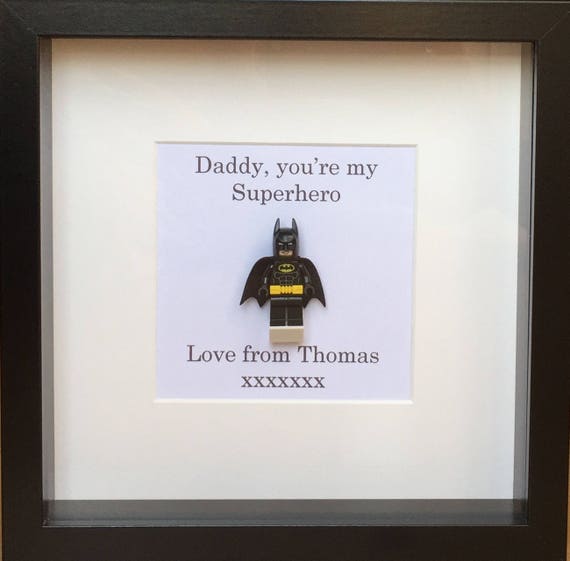 LEGO Mini-Figure Personalized Frame
One of our favorite Etsy finds! Order a personalized LEGO frame for any occasion or create your own – from Father's Day to Wedding proposals, sky's the limit!! Buy on Etsy at Our BrickLibrary ($26+)
LEGO Gift Box
Skip the store-bought gift box and wrapping and make your gift extra special and thoughtful with this LEGO Gift Box, designed by Reddit editor Pastlightspeed, it's re-usable and elegant, reminds us of the iconic Tiffany's box. Here's how you make one, watch this video tutorial
Phone Charging Station
Real Simple, 3 Creative Ways to Use Lego Bricks Around the House: "First, stack two baseplates (gray and green) for stability. Then build Legos into a rectangular block with a window or arch piece at the front for the charging cord. Add a support column at the back to prop up the phone. Use a Lego figure on the baseplate to hold the other end of the cord (their hands are the perfect width to grip it!). You can even use a larger baseplate and Lego pieces to make an iPad charging station."
Lego Coasters
Modern and practical, the perfect housewarming gift designed by Adam Builds For Peace + Bricks.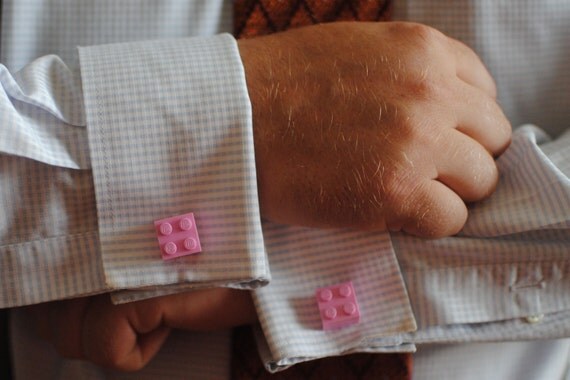 LEGO Cuff Links
Buy on Etsy: "Make a statement with these super cool Lego cuff links. Each pair is made in our studio. Each Lego is attached to a silver plated slanted cuff link. The slant of the cuff link offers a more relaxed and natural fit on your sleeve."
Or make your own, check out this video tutorial
Share Your LEGO Creations
more lego-made gift ideas
See more of our favorite Father's Day Picks – including handpicked personalized gifts and modern keepsakes he'll love.